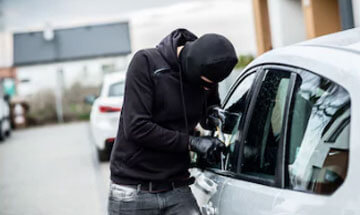 THEFT
In the State of California, all types of theft crimes are considered very serious by law enforcement and the judicial system. If you are found guilty of committing theft, you will be punished with serious legal consequences, possibly at both the State and Federal levels. If you have been charged with a theft crime, such as petty theft, grand theft, first degree burglary, second degree burglary or identity theft, you may be facing a jail term and expensive monetary fines.
California Penal Code Section 484 (a) states that: "Every person who shall feloniously steal, take, carry, lead, or drive away the personal property of another, or who shall fraudulently appropriate property which has been entrusted to him or her, or who shall knowingly and designedly, by any false or fraudulent representation or pretense, defraud any other person of money, labor or real or personal property, or who causes or procures others to report falsely of his or her wealth or mercantile character and by thus imposing upon any person, obtains credit and thereby fraudulently gets or obtains possession of money, or property or obtains the labor or service of another, is guilty of theft."
The monetary value of the stolen goods is a determining factor in the charge and penalty a defendant will face. If a person is convicted of a petty theft, in which the stolen items total up to $400, the penalty will most likely be less than that of a person who is convicted of grand theft, where the stolen items amount to $400 or more.